Redditors recently weighed in on the cliches that truly make them rage from their inaccuracy. Because life isn't like the Pinterest boards say, man. It just isn't.


"That may be true for spelling but I've done enough group projects to know better."



"Actually you'll be among the cold, dark emptiness of space."

"Your heart is an emotional self-obsessed asshole. You should follow your brain, it has the thinking bits."
"No, everything happens because there is a cause. A reason is a justification made for a conscious decision. Someone might get cancer and there could be causes to it but if I meet the son of a bitch who reasoned his way into giving my mom cancer he's gonna be in some trouble."
"Bullshit. I've never seen an unhappy person skipping over waves in a brand new jet-ski."
"No. That's a terrible idea that only puts you on the fast track for bankruptcy, the hospital, and or an STD."
"Candlelight worked, but why do we not use it anymore? Light bulbs are better. Horses and buggies worked too, but we use cars because they're better. If everyone lived according to this saying, we'd still be in caves and hunting and gathering our food."
"As someone who works in tech support, let me fix that: The customer is always wrong. (And/or stupid, and/or lying)."
"If you love something, fight your ass off to keep it. If you let it go, it ain't coming back. If it does, it's only yours till it feels like leaving again."
"Sure. But without sugar, lemonade is just lemon juice. Ever drank straight lemon juice? No, you're going to need another ingredient, and it'd better be really sweet and tasty for your sake."
"No, good things come to those who go out and earn them. It may take time and patience, but it is not just sitting on your ass hoping things fall in to place."
"Fuck that. Words carry way more weight and hurt way more than a simple punch. A physical scar will heal in a few weeks, but an emotional scar will last a lifetime."



"No. Fast and then faster win the race. You won't win any legit races going slowly unless they are ridiculously long."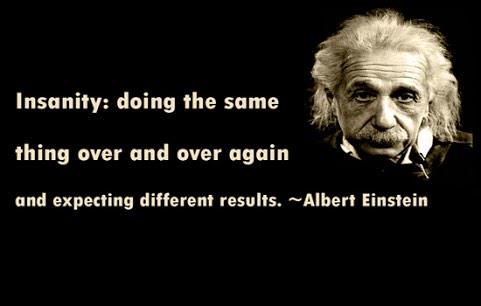 "Nope, that's called 'practicing,' Einstein."
"No. If you can't do it fuck off and let someone competent do it. I'm just going to fire you in a week when you break something."
h/t Reddit