So there's apparently a CSI: Cyber show now, which has a bunch of my techie pals stifling giggles and/or rolling their eyes at the fictionalized e-shenanigans being broadcast to the masses. I honestly can't get past the "cyber" tag, a weird bit of atavistic jargon whose continued usage as prefix to "-crime" is a testament to the law enforcement community's abilities to keep up with the "hep" lingo used by those zany Kids of Today. Joe Friday would be proud.
Given "cyber" prefix's roots in the era of Zip drives and soul-patches, I decided to spam my twitter feed this morning with era appropriate story hooks and script suggestions. (You'll have to supply your own third-wave ska and electronica soundtrack.)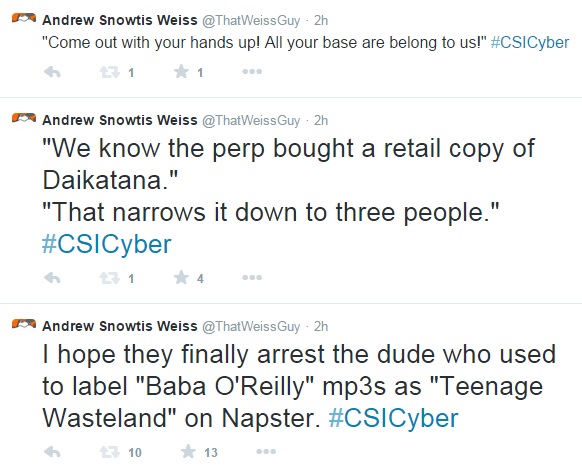 I expect a hefty check and job offer from CBS will arrive any moment now.
Related posts: