About two years ago, Kim Kozlowski installed a Little Free Library in front of her home in Ferndale, north of Detroit. The wooden birdhouse-for-books instantly became a point of connection between Kozlowski and her neighbors, who dropped by to swap books and share stories. The vessel became a community builder, she says.
Kozlowski wondered how these petite libraries might be able to galvanize people beyond her block. She partnered with local organizations, like the Rotary Club, Kiwanis, and Eagle Scouts, to install about 150 in front of homes, non-profits, community gardens, and churches. In the process, Detroit's sidewalks grew dotted with these structures; Kozlowski's Detroit Little Libraries campaign dubbed the city "The Little Free Library Capital of the World."
The city will soon lay even more claim to the title. On July 28, it announced a plan to install these constructions in front of all of the Detroit schools—97 in total. The Detroit Public Schools Community District—in partnership with Detroit Little Libraries, Detroit Public Libraries, and the DPS Foundation—will lead the charge.
Detroit resurfaced from city-wide bankruptcy, but the school system was still capsizing, struggling against crippling debt. Buckling under economic pressure, some public libraries have scaled back their hours or shut their doors; many school libraries have sparse shelves. This spring, the schools received a $617 million bailout, making a dent in its $3.5 billion overrun. Still, the schools have limited resources to apportion among the students.
---
Related Story
In many high-poverty urban neighborhoods, it's nearly impossible for a poor child to find something to read in the summer.
---
The idea to partner with the schools came about around a month ago, when the interim superindendent, Alycia Meriweather, reached out via email to gauge Kozlowski's interest in a collaboration. "To me, that's the pinnacle of what we've been looking for," Kozlowski says. "This is where we need to be, getting books in the hands of children."
Detroit is a book desert, where many kids lack access to age-appropriate reading material. Whatever resources do exist are often stretched impossibly thin. In the Hamtramck neighborhood, for example, there's an average of one book for every 42 kids, according to recent research by Susan Neuman, a professor of childhood education at New York University. As Alia Wong recently explained in The Atlantic, lack of access to books can have a dramatic impact on a kid's future, eroding overall readiness for the classroom environment, measured by familiarity with sounds, colors, and numbers. Moreover, Wong continues, researchers have hypothesized that a lack of books constrains the way kids imagine education factoring into their daily lives.
To bridge the gap, Meriweather floated the idea of calling on the community to build or gift the libraries, which cost a few hundred dollars apiece. (The school district will be tasked with selecting sites and installing and maintaining the libraries; Kozlowski says she hopes residents will take up the mantle and steward the projects along, helping to restock the shelves.) The Detroit Public Library is pitching in, but the idea has already reverberated far outside of the area code: book clubs from Alaska, Nevada, and Montana are donating, too. "People are really stepping up," says Kozlowski.
Local artists are also exhibiting gussied-up Little Free Libraries at next month's State Fair. Afterwards, the structures will be installed at community gardens around the city.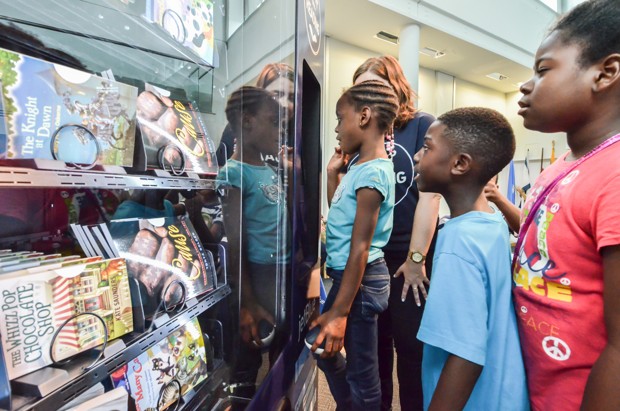 Elsewhere in Detroit, JetBlue Airways and Random House have installed five vending machines that will dispense 100,000 free books for kids throughout the summer. The machines, positioned under the banner of the Soar With Reading initiative, are set up in areas with high pedestrian traffic, the Detroit News reported, such as churches, and parks. So far, the demand seems to be voracious for Richard Scarry's colorful picture books and sci-fi tomes like The Maze Runner; one recreation center employee told the News that she's been replenishing the supply two or three times a day.
Kozlowski views these initiatives as a testament to a city that's fixing its gaze on the horizon. "A lot of people working hard to bring Detroit along," she says. "We can't have a future Detroit without our kids."