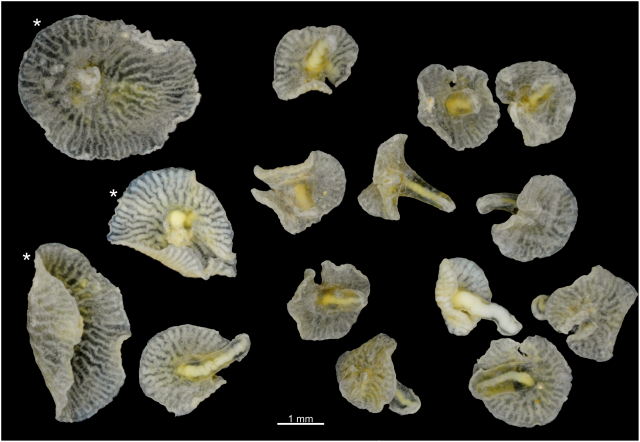 D. enigmata on the right, with the three larger samples on the left representing D. discoides.
Over the past few years, studies of genomes have confused what we thought we knew about the origin of animal life. Instead of the simple sponges being the earliest branch off the animal tree, a group of relatively complex organisms, the ctenophores, seem to be the earliest branch. That finding has some serious implications, as it suggests that a nervous system evolved twice.
Now, some more traditional biology may upset the family tree even further. Old samples taken from the seabed near Tasmania contain examples of two different species that may belong to a phylum entirely unknown to us—one that split off near the base of the animal tree. The strange creatures also have features that suggest they may be related to remains from the Ediacaran, a period in which the first animal life appears in the fossil record.
The samples actually date from a research cruise taken nearly 30 years ago, where a "sled" was dragged along the ocean floor and samples returned to the surface. The new species weren't recognized as interesting when they were first found, so they were left mixed in with the rest of the collection, which was fixed with formaldehyde and then dumped in 80 percent ethanol. The samples suffered a bit of further abuse when one of the authors wanted to refresh the alcohol and was given 100 percent ethanol instead. (The paper actually notes, "Unfortunately absolute alcohol was provided without comment instead of the requested 80 percent ethanol.")
Read 10 remaining paragraphs | Comments