All hail Zoe Lofgren, congresswoman from California's 19th district, and queen of my heart.
On Tuesday, during a congressional hearing, Lofgren took down one of the witnesses for her blatant transphobia.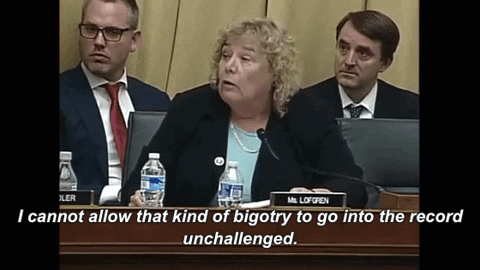 The witness, University of San Diego law professor Gail Heriot, lambasted the recent Departments of Justice and Education guidance on transgender students' rights, declaring that "[i]f someone had said in 1972 that one day Title IX would be interpreted to force schools to allow anatomically intact boys who psychologically 'identify' as girls to use the girls' locker room, he would have been greeted with hoots of laughter." Heriot went on to dismiss trans students' gender identities as "a fantasy," asserting that, "I [am not] a great-horned owl just because, as I have been told, I happen to share some personality traits with those feathered creatures."
Lofgren wasn't having any of it. She condemned Heriot's transphobia, noted the disproportionately high rates of violence and discrimination that trans students suffer, and declared her objection that Heriot's hateful comments — many of which, by the way, are legally suspect in addition to unethical and bigoted — were ever entered into the record to begin with.
Then, over the objections of Republican Chairman King — who demanded "civil" language from Lofgren but (of course) not from Heriot — Lofgren declared: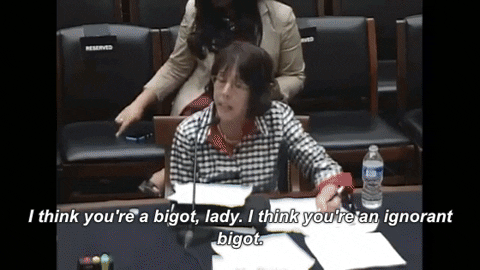 I think you're a bigot lady. I think you're an ignorant bigot.
Mic drop.
As eleven states sue the Obama Administration for its recent efforts to protect trans students — arguing that they should be able to use federal funds to discriminate against kids — I'm grateful that there are still a few good politicians out there. Thank you, Representative Lofgren, for calling hate, violence, and discrimination what it is.
You can watch the hearing in full here. Transcript of Lofgren and Heriot's exchange after the jump.
—
Zoe Lofgren: I don't usually call out witnesses but here's what the written testimony says, and this is Mrs. Heriot:
We are teaching young people a terrible lesson. "I believe that I am a Russian princess." That doesn't make me a Russian princess, even if my friends and acquaintances are willing to indulge my fantasy. Nor am I a great-horned owl just because, as I have been told, I happen to share some personality traits with those feathered creatures.
I've gotta say I found this rather offensive. It says, to me, that the witness really doesn't know anything and probably has never met a transgender child, who is going through, in almost every case, a very difficult experience finding themselves. And I believe that the Department's guidance will help schools all over the United States in preventing the kind of violence and harassment that these transgender kids find too often. That's all I'm gonna say on that. I think it's very regrettable that that comment was put into the record and I think it's highly offensive.
Gail Heriot: Well could I comment on that please?
ZL: No, it's just my opinion…
GH: I think you'll find that many people find it very offensive that the Department of Education…
ZL: I think you're a bigot, lady.
GH: …thinks that they can tell schools…
ZL: …I think you are an ignorant bigot…
Chairman Steve King: Gentle lady from California will suspend, you're out of order.
ZL: She's out of order.
SK: We don't call names in this committee and you will not be recognized to do that.
ZL: Mr. Chairman, it is my time. And I would just like to say that we allow witnesses to say offensive things, but I cannot allow that kind of bigotry to go into the record unchallenged. I don't want to get into a debate about it…
GH: Does that mean you think I am a Russian Princess?