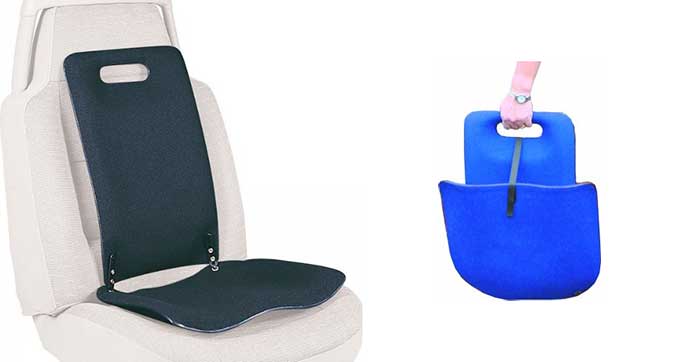 The Backfriend ($170) makes any chair into a back support chair: car seats, desk chairs, stadium chairs, convention chairs, bus benches, a roughly chair-shaped tree trunk… if it has a seat and a back, you can make a comfortable back support chair out of it.
It's rather pricey, but truly a friend to your back; I've been using it for 5 years now and it's built to last — the only thing that has broken was one of the connectors, but they gave me a spare (and honestly, you could use zipties as connectors).
Basically, the Backfriend consists of two tough, ergonomically molded pieces of plastic covered by a cushion. The pieces are rigid enough that I can even use them in my canvas butterfly chair and I'm still well supported, even though parts of the Backfriend are not. I use it in my car most of the time — it's well endorsed by truck drivers — but it really shines when I go to a festival, concert, sporting event, seminar or convention. Remember those butt-buster chairs you had to squirm around in the last time you went to a seminar? No more! Just unfold your Backfriend in your seat and you'll be the envy of your uncomfortable compatriots.
It doesn't fold entirely flat, because it's molded, but it ends up being about max 3 inches thick when folded, has a carry handle and a velcro strap so it doesn't unfold mid-carry, and it's pretty light.
It's not inexpensive, but it will serve you well. I'd order it from a place that allows returns, just in case…but I don't see these come up used on eBay much — once they've tried them, people don't want to let them go!
-- Barbara Dace
Medesign Backfriend Posture Support for Chairs and Car Seats ($170)
Available from Amazon