Shared posts
02 Jan 16:16
01 Dec 18:13
08 Jun 11:00
by Matt Novak on Gizmodo, shared by Adam Clark Estes to io9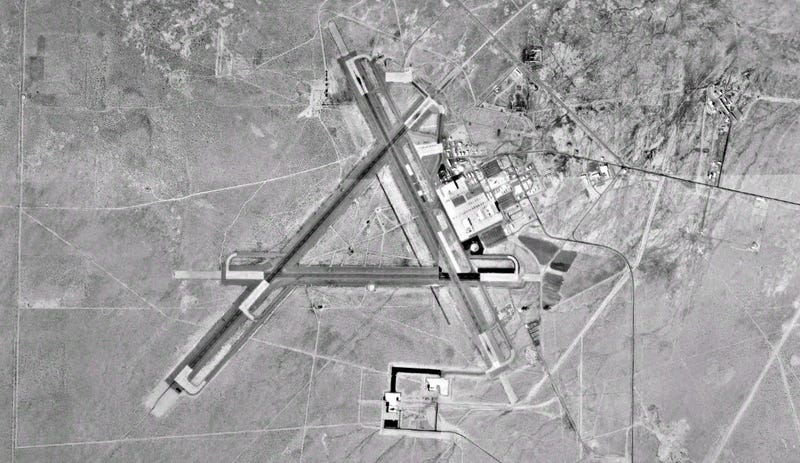 Starting today, it appears the US military will be testing a device or devices that will potentially jam GPS signals for six hours each day. We say "appears" because officially the tests were announced by the FAA but are centered near the US Navy's largest installation in the Mojave Desert. And the Navy won't tell us much about what's going on.

The FAA issued an advisory warning pilots on Saturday that global positioning systems (GPS) could be unreliable during six different days this month, primarily in the Southwestern United States. On June 7, 9, 21, 23, 28, and 30th the GPS interference testing will be taking place between 9:30am and 3:30pm Pacific time. But if you're on the ground, you probably won't notice interference.
The testing will be centered on China Lake, California—home to the Navy's 1.1 million acre Naval Air Weapons Center in the Mojave Desert. The potentially lost signals will stretch hundreds of miles in each direction and will affect various types of GPS, reaching the furthest at higher altitudes. But the jamming will only affect aircraft above 50 feet. As you can see from the FAA map below, the jamming will almost reach the California-Oregon border at 4o,000 feet above sea level and 505 nautical miles at its greatest range.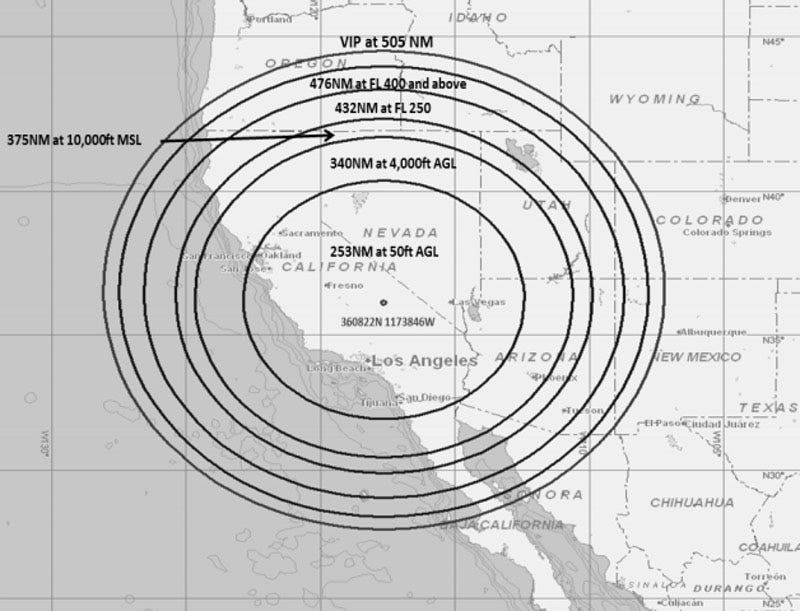 I gave the Naval Air Warfare Center Weapons Division a call yesterday, but they couldn't tell me much.
"We're aware of the flight advisory," Deidre Patin, Public Affairs specialist for Naval Air Warfare Center Weapons Division told me over the phone. But she couldn't give me any details about whether there was indeed GPS "jamming," nor whether it had happened before. Patin added, "I can't go into the details of the testing, it's general testing for our ranges."
As AVWeb points out, Embraer Phenom 300 business jets are being told to avoid the area completely during the tests. The FAA claims that the jamming test could interfere with the business jet's "aircraft flight stability controls."
GPS technology has become so ubiquitous that cheap jamming technology has become a real concern for both military and civilian aircraft. And if we had to speculate we'd say that these tests are probably pulling double duty for both offensive and defensive military capabilities. But honestly, that's just a guess.
http://paleofuture.gizmodo.com/the-us-militar...
These tests are naturally going to fuel plenty of conspiracy theories about mind control, weather modification, and aliens—especially with China Lake's proximity to both large population centers like LA and Las Vegas, and the fact that Area 51 is practically just down the road. But it doesn't take a conspiracy theorist to tell us we're fucked if terrorists or shitty teenagers make it a habit of jamming GPS signals for everybody.
If you experience any significant GPS interference this month or know the "real" reason behind these test (aliens, right?) please let us know in the comments.
Correction 11:24am: This post originally misstated that one level of interference would occur at 4,000 feet. It's 40,000 feet above sea level, and has been corrected. I regret the error.
03 Feb 15:36
by Andrew Liszewski on Toyland, shared by Adam Clark Estes to Gizmodo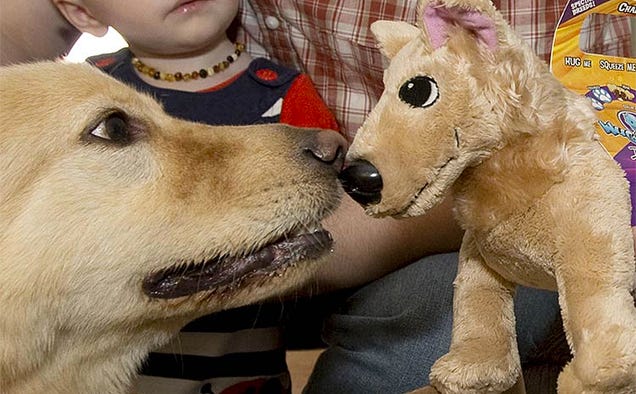 Like the Cuddle Clones website , the people behind a Toronto-based company called Pibborafi want to create a stuffed clone of your beloved pet dog. But unlike Cuddle Clones , only a select few pups will be chosen since the process is completely free, and they have to be rescue dogs to even be considered.
20 Nov 18:11
Highmaul is the seat of power for the Gorian Empire, the ogre civilization that ruled Draenor for generations until the arrival of the draenei. A massive city that belies the ogre reputation for brutish stupidity, Highmaul is full of bustling markets, wealthy nobles, and the roar of the Coliseum crowd echoing through the streets of the slums. Visible from everywhere within the city's walls, Imperator Mar'gok's citadel casts a long shadow, a reminder of his watchful eye and iron grip.
Highmaul is an imposing stretch of ogre-controlled territory located within Nagrand. The Highmaul Raid contains seven bosses, three of which are optional: The Butcher, Tectus, and Brackenspore. Players will need a minimum Item Level of 615 to enter the ogres' domain Raid Finder.
Here's a brief breakdown of the bosses you'll find in Highmaul. Additional information on abilities and role-specific tips can be found within the in-game Dungeon Journal.

Gear Reward Item Level Range:640-685
Kargath Bladefist
Warlord of the Shattered Hand, Kargath honed his combat skills as a slave in the ogres' gladiatorial games. He slaughtered countless opponents for the promise of freedom, only to be ultimately rewarded by being locked away with the other retired "champions." Fueled by rage, Kargath severed his own hand to escape and led a revolt that soaked Draenor in ogre blood. Now, he returns to the arena to teach you the true meaning of savagery.
The Butcher (Optional Boss)
Born in the fetid Underbelly of Highmaul, this ogre may have once had a proper name, but it's since been long forgotten. Abused and beaten from his earliest days, the hardship only strengthened his body even as it broke his mind. Now there is not an ogre in Highmaul who will not give him a wide berth as he hacks away at slaughtered carcasses to pass his days.
Tectus (Optional Boss)
An ancient embodiment of the chaotic forces that shaped the terrain of Draenor, Tectus has been twisted and enslaved by the maddened Pale Orcs—who themselves barely maintain control over this imposing force of nature.
Brackenspore (Optional Boss)
The Iron Horde juggernaut moored in the waters beside Highmaul drew the attention of Brackenspore, ancient walker of the deep. This aquatic giant spreads fungal growth and moss in its wake, and is driven by primal instinct to eradicate any traces of civilization on Draenor.
Twin Ogron
Guarding the entrance to the Gorthenon atop Highmaul, Pol and Phemos are the personal guard of Imperator Mar'gok. Peerless in strength and determination, what these ogron brothers lack in intelligence, they make up for with sheer size and brute force.
Ko'ragh
Ko'ragh was the only ogre to survive direct exposure to a mysterious relic unearthed by the Highmaul excavations of Nagrand, leaving him with a near-complete immunity to all magic. Rumors abound regarding his connection to the Imperator, with some wondering why Ko'ragh would remain subservient to a sorcerer despite his unique gifts.
Imperator Mar'gok
As the grand Imperator of Highmaul, Mar'gok is descended from a long line of sorcerers who ruled the Gorian Empire. With cunning that matches his brutality, Mar'gok recognized the rising tide of the Iron Horde and what it would mean to oppose them. He has acquiesced to an alliance with Grommash, even as he continues to search for a way to tip the balance of power back into his favor.
Raid Unlock Schedule
To help you plan your escapades into the heart of this dangerous new place, we've broken down Highmaul's unlock schedule for you.
December 2, 2014
Highmaul opens with Normal and Heroic difficulties accessible.
December 9, 2014
Mythic difficulty and the first wing of Raid Finder (Kargath, Butcher, Brackenspore) unlock.
December 16, 2014
Raid Finder Wing 2 (Tectus, Twin Ogron, Ko'ragh) unlocks.
January 6, 2015
Raid Finder Wing 3 (Imperator Mar'gok) unlocks.
25 May 20:59
by Saikat Basu
Take a few thousand bad photographs. The good ones will come in good time. This advice still holds good. We can hop, skip, and jump from the bad to the moderately good with some help. Just a Google Search gives us all the tips on digital photography. We can choose to drown ourselves in the many good photography blogs and websites that have mushroomed around this popular hobby. We can also go through the chaos of learning with some order – like an online course. These six open online photography classes could be just the thing if you like to...
Read the full article: 6 Open Online Photography Classes You Can Learn From At Your Own Pace
05 May 20:02
Reminder: The first batch of BlizzCon 2014 tickets goes on sale Wednesday, May 7 at 7 p.m. PDT. When the time comes, hit the link below for your chance to snag some.
Get BlizzCon 2014 Tickets Here
Tickets usually go fast, so if you want to attend this year's show, it pays to be prepared. Ticket sales are being handled through Eventbrite this year, so a few things are different from 2013. It's worth reading our BlizzCon Ticket Info page to learn more, and we've assembled a few key bits of information here to help you get ready:
The Important Stuff
During the checkout process, ticket purchasers will need to provide the full names and valid email addresses for each attendee (up to 4). You won't be able to leave these blank, but you'll have until June 6 to make changes, so don't worry too much if you're not sure who's coming yet.
If you're not yet sure who your guests will be, it's best to enter your own name and email address for all of your tickets during the checkout process.
A couple of months before the show, the ticket purchaser will receive up to 4 emails (one for each ticket purchased), each containing a unique bar code and the name of one of your attendees. Attendees must print out and present this bar-code email along with matching photo ID at BlizzCon to receive their badge granting admission to the show.
Remember that all of these badge emails will be sent directly to the ticket purchaser, and it will be up to the purchaser to distribute them to their guests.
When ticket sales begin, make sure to select the correct quantity of tickets you want before you click Order Now. You will not have a chance to change the quantity after you've entered the checkout process, and if you try to go back, you'll risk losing your place.
Other Handy Info
After clicking Order Now, you may find yourself in a "waiting room" before you enter the checkout process. Ticket buyers will be sent from the waiting room to checkout in the order they arrived, and there's no need to refresh your browser. Keep in mind that being in the waiting room doesn't necessarily mean you're guaranteed tickets.
Once you've entered the checkout process, you'll have 8 minutes to complete your order—a countdown will be displayed on-screen so you know how much time you have remaining. After 8 minutes, the tickets will be released for others to buy, drawing from those in the waiting room first.
Keep your browser window open until your ticket purchase is confirmed!
Keep in mind that tickets are only being sold online through Eventbrite. Customer support won't be able to place orders for you.
Check out the BlizzCon Ticket Info page for more details. Remember, tickets go on sale May 7 at 7 p.m. PT and May 10 at 10 a.m. at the link below. Good luck!
04 Apr 15:11
by (Adam Holisky)
BlizzCon 2013
tickets are $175
and will go on sale at the following times:
Wednesday, April 24 at 7 p.m. PDT
Saturday, April 27 at 10 a.m. PDT
BlizzCon takes place November 8 and 9 this year at the same place it's always been: the Anaheim Convention Center outside of LA. For those that cannot attend in person, a virtual ticket will be made available. And of course, we'll also have around the clock coverage on WoW Insider.
Tickets to BlizzCon have normally sold out in seconds (literally), so you'll need to be at your computer at the times above, be very quick, and have a lot of luck in order to get one.
Good luck! The full announcement is after the break.
No more posts. Check out what's trending.