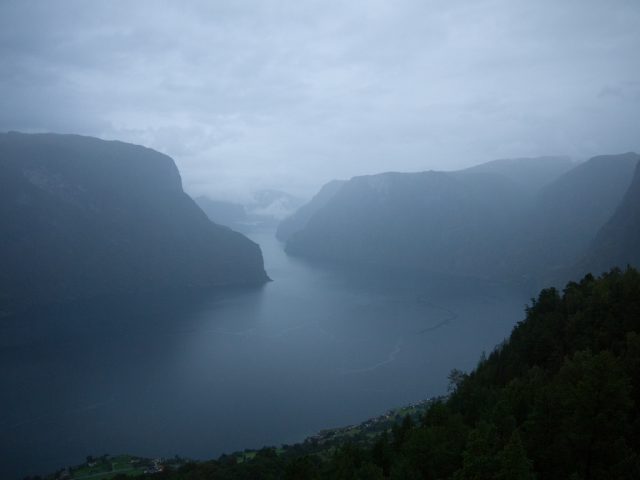 Aurlandsfjord, Norway, where seiches were observed.
During an earthquake, it's the area near the epicenter that sustains the greatest damage, though shaking can sometimes be perceptible at impressive distances. But the seismic energy released by the earthquake actually travels around the globe—several times, in fact—as the planet, in essence, rings like a struck bell. The bigger the earthquake, the louder it rings. And the magnitude 9.0 quake that struck just off the coast of Japan on March 11, 2011 was very big, indeed.
Scientific instruments like seismometers are sensitive enough to pick up seismic waves from distant earthquakes, even on their second or third trip around the planet. (Satellites have even detected the accompanying atmospheric waves.) It doesn't always take super-precise measurements to know something is happening, however. A groundwater monitoring well in Virginia made the passage of seismic waves from the 2011 Tohoku earthquake quite clear in the form of a rapid two foot rise in water level.
While the tsunami that accompanied the earthquake in Japan was devastating, waves of a very different sort were spawned far away—in the fjords of Norway. A number of witnesses noticed the strange waves, occurring as they did on a calm morning when the fjord waters were otherwise smooth. As some managed to capture on video, the water swelled and ebbed by as much as five feet once per minute or so for several hours—starting about half an hour after the earthquake in Japan.
Read 9 remaining paragraphs | Comments