Fast, simple, and flavorful, this chicken and noodle salad – with all the yummy flavors of delicious satay sauce – is one of my favorite weeknight meals! Plus, the leftovers, straight from the fridge, are insanely good.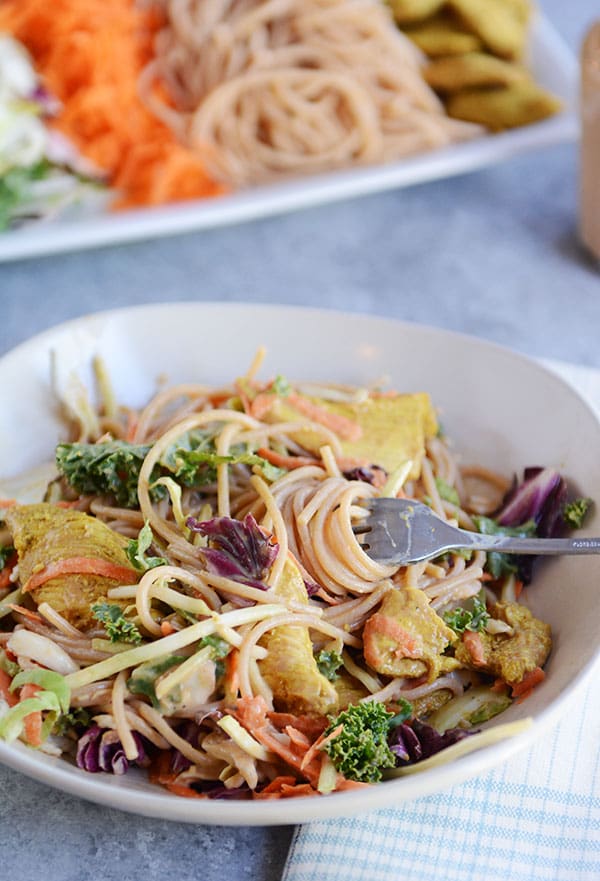 First up today, thanks to all of you who have purchased a Simple Weeknight Dinners eCookbook! Your support and response has been amazing. As you probably know, everyone who bought a book Thursday and Friday of last week were entered to win a hand-crafted nativity set that I brought back from Ghana. I'm excited to announce the winner…Pam B.! I've sent an email already so if you see it, Pam, email me back!
Thanks again to everyone who has purchased a book so far; I hope you love the recipes!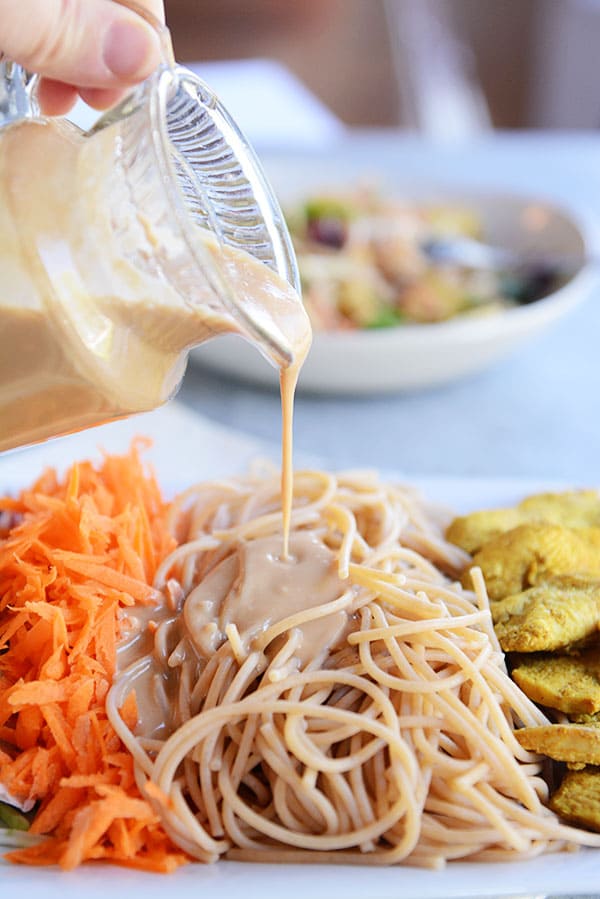 Now. Let me tell you about this amazing satay chicken noodle salad.
It's fast (20- or 30- minutes).
It's delicious (these curry/Thai/satay flavors get me every time).
It makes the best leftovers (or make-ahead lunch or dinner) in the universe.
I've gushed over savory peanut sauces before. You know I love 'em. And I certainly know I love 'em. But throwing that delectable satay sauce over tender noodles, curried chicken, and crunchy vegetables is about the most perfect combination ever.
If you care to leave a comment, I'm really curious to know: are you a peanut sauce fan?
What about curry?
Can we have a little informal survey here? I pinky swear we can be still friends no matter where your opinion falls.
This satay chicken noodle salad really is spectacular. It's perfect for hectic weeknights when I'm wondering how I'll ever get dinner on the table again (sidenote: I have a post coming up to tackle this very issue; hooray!). It's fast enough to throw together quickly when you need it OR even better, it can be made ahead of time and eaten straight from the refrigerator.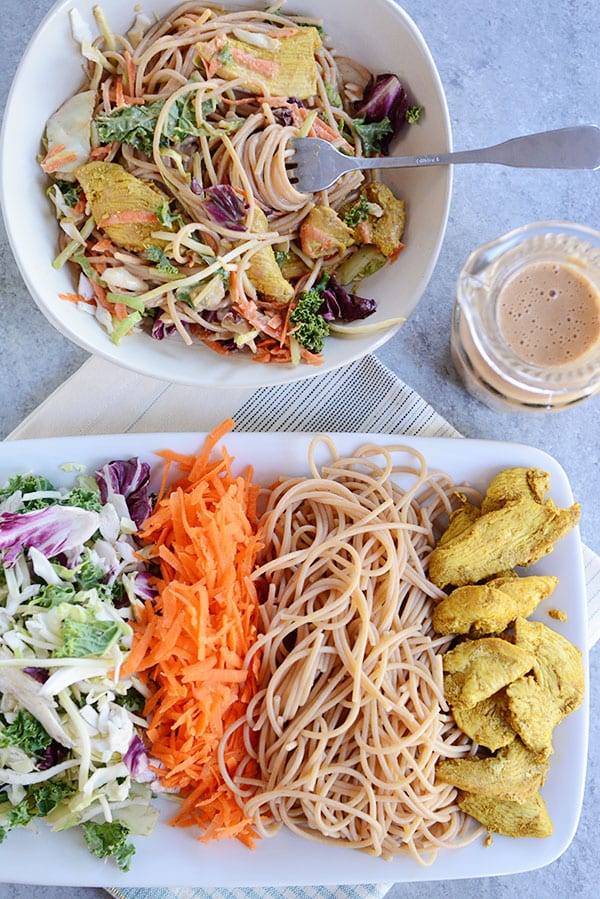 I packed it in little containers stashed in a cooler for a road trip I took a few weeks ago with a couple friends, and we devoured it at about 6:47 p.m., while driving in the middle of nowhere Idaho on our way to Bear Lake when there wasn't even a soggy gas station sandwich to be spied for miles and miles.
I thought our rave reviews were because we were deliriously hungry (we were running late for our scheduled arrival time and hadn't eaten in hours!), but later, when I was back home and made it for my family, it was as delicious as I had remembered (although a little easier to eat since I wasn't trying to drive and balance it on my lap).
If you love Thai satay sauce flavors, this one is a no-brainer. And if you don't? I'm still almost certain you will. It is that delicious.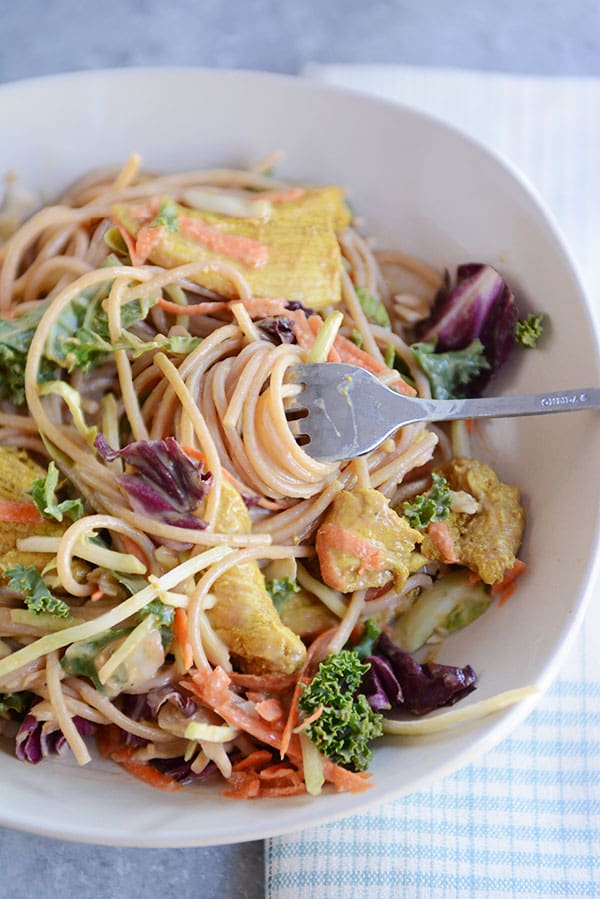 Satay Chicken Noodle Salad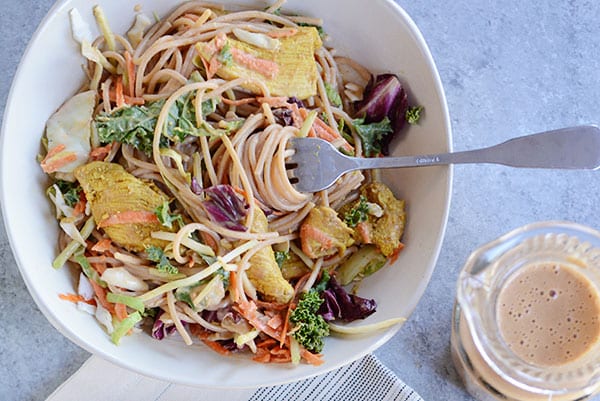 Natural peanut butter works great - the sauce will have more grit to it than if using creamy peanut butter, but it's still delicious.
The greens in the salad are very adaptable. It's best to have something sturdy - like cabbage or kale - so it doesn't wilt as the salad sits (because the leftovers are amazing) but you could probably even experiment using spinach or romaine, especially if you are eating it up right away. I like to use a shredded cabbage and kale mix from Trader Joe's.
I'm a broken record about this but my favorite curry powder is the sweet curry powder from Penzey's - just make sure to love the taste of whatever curry powder you use.
One key to this salad is to slice that chicken extra thin. It cooks quickly and absorbs a ton of yummy flavor!
Ingredients
Satay Sauce:

1/2 cup creamy peanut butter, natural or regular
2 garlic cloves, finely minced
1 tablespoon sesame oil
1/4 cup low-sodium soy sauce
1 tablespoon brown sugar
1 teaspoon sriracha or chili paste, more to taste if you want extra heat
1/4 cup fresh lime juice (about 3 limes)
2/3 cup light coconut milk
Salt, to taste

Chicken:

1 1/2 pounds boneless, skinless chicken breasts, thinly sliced
1/4 teaspoon salt
1/4 teaspoon pepper
2 teaspoons curry powder (see note above)
2 tablespoons low-sodium soy sauce
1 tablespoon sesame oil or other cooking oil, like vegetable, avocado, coconut

Salad:

10 to 12 ounces spaghetti noodles or fresh egg noodles (depending on how noodle-y you want the salad)
2 cups shredded green or red cabbage (or a combo)
2 cups chopped kale (see note above)
1 large carrot, grated on the large holes of a box grater (about 1/2 to 1 cup)
Chopped peanuts, for garnish (optional)
Directions
Mix all the sauce ingredients together in a blender and process until smooth. Set aside (this can be done several days in advance and refrigerated).
Cook the noodles according to package directions. Drain and set aside.
While the noodles cook, toss the chicken with the salt, pepper, curry powder, and soy sauce.
Heat the oil (sesame oil is my favorite for this recipe!) in a large, 12-inch nonstick skillet until rippling and hot.
Add the chicken in a single layer and cook, stirring occasionally, until cooked through, 3-4 minutes.
In a large bowl, toss the prepared noodles with the cabbage, kale, and carrots. Add the chicken. Pour over the dressing and toss to combine.
Serve immediately (although this also makes great leftovers straight from the fridge).
3.1
http://www.melskitchencafe.com/satay-chicken-noodle-salad/
Printed from Mel\'s Kitchen Cafe (www.melskitchencafe.com)
Recipe Source: adapted from Recipe Tin Eats (increased and adapted the overall recipe to serve make more than 3-4 servings, used spaghetti noodles, subbed in kale/cabbage mix instead of just cabbage and a bunch of other little changes)
The post Satay Chicken Noodle Salad appeared first on Mel's Kitchen Cafe.