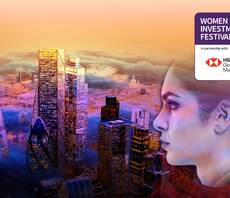 Incisive Media – Investment Week's parent company - is delighted to reveal the list of speakers that will attend its first Women in Investment festival on 3 March this year.
The one-day festival, which aims to celebrate successful women in the industry and is sponsored by HSBC Global Asset Management, will take place at The Brewery in London.
The day begins with a breakfast at 8.15am and an opening keynote speaker at 9.10am.
From here, there will be a series of roundtables, panels, interactive discussions, and opportunities for networking.
For more details and to buy tickets for the festival, please click here.
The opportunity to purchase Early Bird tickets expires 31 January. Group booking discounts are available for parties of three or more.
Host
Julia Streets
Speakers
Ros Adler, co-founder, The Confidence People
Gretchen Betts, managing director, Magenta Financial Planning
Andy Clark, CEO, HSBC GAM
Emma Douglas, head of DC, Legal and General Investment Management
Tamara Gillan, co-founder, WealthiHer Network
Marisa Hall, director, Thinking Ahead Institute, Willis Towers Watson
Ayesha Hazarika, comedian, broadcaster journalist and political commentator
Henrietta Jowitt, deputy director-general, CBI
Michael Kinney, principal, Mercer
Mandy Kirby, co-founder, City Hive
Justin Onuekwusi, head of retail multi-asset funds, Legal & General Investment Management
Jane Portas, partner, PWC
Lea Sellers, co-founder, The Confidence People
Bev Shah, CEO and founder, City Hive
Anna Sofat, founder and managing director, Addidi
Karis Stander, managing director, Investment20/20
Davinia Tomlinson, founder, Rainchq
Jane Welsh, project manager, Diversity Project
Mentors
Liz Field, chief executive, PIMFA
Alexandra Noble, director, Noble & Associates Limited
Fringe host
Rachael Ferguson, managing director, Leverton Search
Karen Walker, yoga and mindfulness instructor