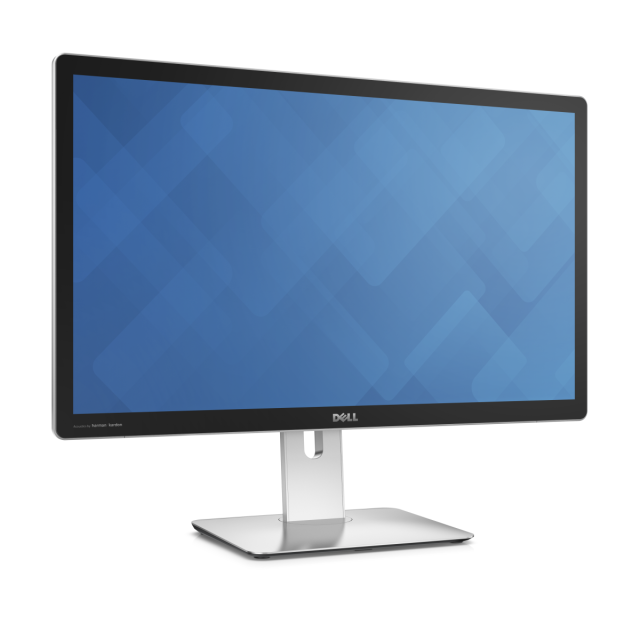 You probably can't make out any pixels on that indistinct blue background thanks to the monitor's staggering 5K resolution.
Dell
A recent Dell press event saw the computer manufacturer debut a number of new laptop and desktop models, but tucked into its product list came one particular stunner: a 27-inch monitor sporting a 5120×2880 resolution. The Dell UltraSharp 27 Ultra HD 5K Monitor, set to launch by the end of Q4 2014 for $2,499, will scream past the consumer-grade competition with a whopping 14.7 million pixels in all. That's over 70 percent bigger than the standard 4K spec of 3840×2160.
Maximum PC managed to make eyes with the monitor—and, perhaps more importantly, its backside, where their reporter found dual DisplayPort 1.2 ports required to handle 5K resolution; that dual-port solution suggests that Dell may be combining two 2560×2880 displays to make this monitor work. (Users who prefer the stone-age days of 4K can use a miniDisplayPort for that resolution as well.) Dell has also left out some details, such as the monitor's refresh rate.
At 218 PPI, the UltraSharp's pixel density just about matches that of a MacBook Pro with Retina display, and it will additionally sport six USB ports, a media card reader, and a pair of Harmon/Kardon speakers. We expect this monitor to serve as a workstation and photo-editing option for professionals who already split between multiple monitors as opposed to a jumping-off point for 5K gaming—most high-end rigs can barely render games in 4K resolution as it stands.
Read on Ars Technica | Comments