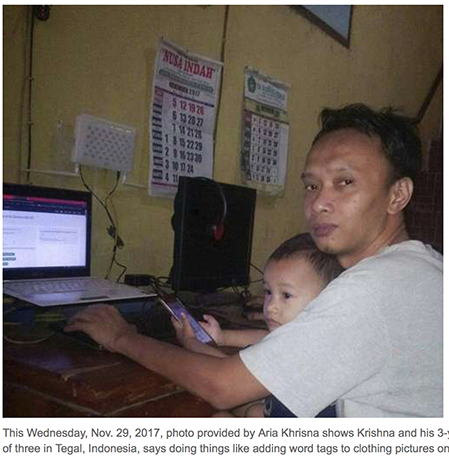 Okvalificerade arbeten som bara innehåller enkla, repetitiva moment var något vi förknippade med gamla tiders industrijobb. Som att stansa samma hål i en plåt 800 gånger per dag, eller liknande.
Det digitala samhället har dock inte befriat oss från lågbetalda och monotona jobb. Men nu handlar det till exempel om att för några ören klicka på bild efter bild efter bild som innehåller en bil, eller något annat objekt – med syftet att träna "AI", dvs maskinlärnings-algoritmer, med basdata.
"Digital microwork" utförs främst i fattiga delar av världen. Artikeln AI's dirty little secret: It's powered by people (5 mars 2018) visar fascinerande bilder av digital arbetsmiljö* i Venezuela och Indonesien.
Viktigt att komma ihåg att även en låg ersättning kan vara en viktig inkomst i fattiga delar, och även ett enformigt jobb är bättre och säkrare än många alternativ.
Men kommer inte även dessa jobb att försvinna snart? Kanske inte: så länge priset kan pressas ner kan det förmodligen löna sig att fortsätta använda människor. Riskkapitalisten som intervjuas i artikeln ser att människor kommer att finnas med i AI-utvecklingen "for a long, long, long time to come". Och han ser "billions of dollars of opportunity" i att låta lågbetalda människor driva AI.
*Kom ihåg definitionen av digital arbetsmiljö: alla förhållanden i arbetet där man styrs av eller interagerar med digitala system.