Wyatt Neumann is a photographer and father who last year took his two-year-old daughter Stella on a road trip across the country, documenting their travels as they went. Along the way he captured beautiful landscapes, pictures of the open road, as well as a handful of adorable images of Stella wearing what two-year-olds very often wear: a fairy dress or nothing at all.
Normally, when put in a family photo album or a personal collection to show off to friends, this sort of subject matter isn't an issue. But, as Neumann found out the hard way, these nude but non-explicit images engendered an entirely different reaction when he posted them online.
As the trip progressed, Neumann shared the images from his travels with his daughter through Facebook and Instagram. Until, that is, about halfway through the road trip when the images began drawing criticism from people the world over.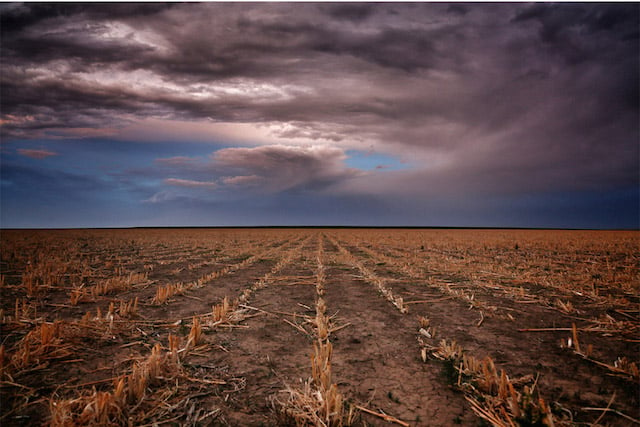 The public backlash of the images brought a hailstorm of critics who called them "perverse," "sick" and "pornographic." Specifically, a group from the website Get Off My Internets began verbally attacking Neumann for publishing these images after a forum thread drew more attention to the photos than he had ever anticipated.
Before long, members of the site sent out a plethora of complaints to both Facebook and Instagram and managed to get Neumann's profiles suspended. Eventually reinstated, it was the broad criticism of both him and his daughter and the suspension of his accounts that lead Neumann to realize this was a matter of freedom of expression and the freedom of speech.
It was then that he came up with the idea to turn these images into a gallery and accompanying book. Aptly titled I FEEL SORRY FOR YOUR CHILDREN: The Sexualization of Innocence in America, The Safari Gallery exhibition and book take what Neumann hopes is an honest look at what childhood is and what it's been turned into. As he explains in his artist statement:
What's troubling is the abject reviling of the human body, the intense and overt sexualization of the natural form, especially the naked bodies of carefree young children, who have yet to feel the burden of institutionalized body image awareness and the embarrassment that comes with adolescence. My children are free, they live without shame.
As part of the series, the gallery and book featured images from their entire road trip, not just of Stella. And along with each image comes a comment, one of the comments left on the nude or semi-nude photos of Stella by the people who were so offended by those images.
Neumann says he is committed to "showcas[ing] the lives [his children] get to live, express myself, and catalog the reality of my children's experience." As for the online critics who had more than a handful of words to share with Neumann in regards to the images of his naked child, his closing statement seems to sum it up fairly well:
So the choice seems clear: do we live in fear and condemnation? Or do we celebrate one another, and ourselves, in this life? I choose to believe in our ability to fight fear with love, ignorance with understanding, and to unite rather than divide. But you be the judge… is this pornography, art, expression, or exploitation. It's up to us to either cower in fear, or liberate ourselves and live.
Below are a number of images Neumann was kind enough to share with us, presented as they were in the exhibition: alongside the critical, hateful and often vulgar words of anonymous strangers who commented on the images of Stella: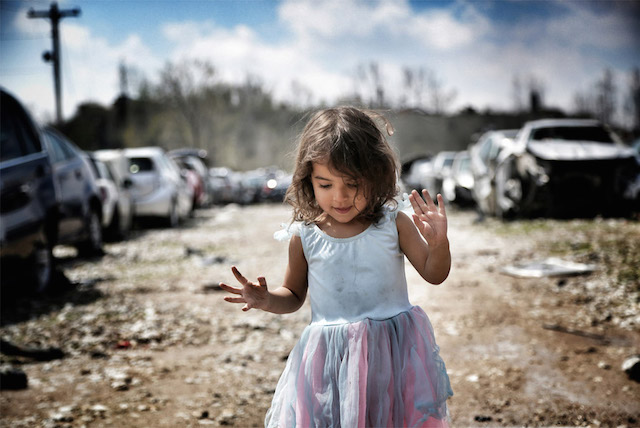 "This man is a sick f**k. Why in the world would you do this to your child? Great job, Wyatt Neumann. That poor little girl…" -Ships Go Overboard aka It Burns, April 26, 2014 6:23pm
"He's an attention seeking f**k. Wake up, Wyatt, you f**king piece of s**t." -SelenaKyle, April 26, 2014 8:59am
"He seems like a d**k. I want to puke. The nude photos are gross and disturbing." -tunawhiskers, April 25, 2014 4:09pm
"Every good thing you are and every good thing you do is cancelled out by the fact that you exploit your children. You truly have no right to do this to them." -skeptical girl is skeptical, April 26, 2014 1:55pm
"Way to serve your daughter up on a plate, sicko. I will be sure to email you directly when I find this image being traded on the deep web, Wyatt, you sick f**k." -your mirror lied to you, April 26, 2014 10:27am
"I doubt she'll ever be in a real school, have any real friends, or develop any real attachments to anything because that would be counterproductive to the isolation her parents probably want to keep her and her brother in. I'll bet the only people they're around are their parents 'like-minded' adult friends, a healthy portion of which are probably pedophiles that they're too blind to see are right there waiting to get their children alone for 5 minutes." -NamelyThis, April 26, 2014 12:47pm
"I am a licensed clinical social worker and I work with abused children and adults every day. I have listened to children tell me about their parents selling them for sex to buy drugs, about parents who locked them away in closets for hours at a time without food or water because they wouldn't stop crying, about parents who beat their children to within an inch of their life, just for being a child. Wyatt, you clearly hold yourself to a higher esteem than those people, but I don't. You are no better than they are."
Here's a feature of Neumann by Vocativ (warning: contains strong language):

To learn more about this project or see any of Neumann's other work, be sure to visit his website by clicking here.
(via Huffington Post)
---
Image credits: Photographs by Wyatt Neumann and used with permission