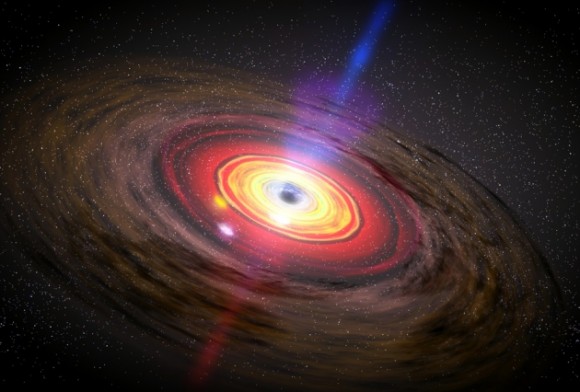 An artist's conception of a supermassive black hole's jets. Image Credit: NASA / Dana Berry / SkyWorks Digital
The supermassive black holes in the cores of most massive galaxies wreak havoc on their immediate surroundings. During their most active phases — when they ignite as luminous quasars — they launch extremely powerful and high-velocity outflows of gas.
These outflows can sweep up and heat material, playing a pivotal role in the formation and evolution of massive galaxies. Not only have astronomers observed them across the visible Universe, they also play a key ingredient in theoretical models.
But the physical nature of the outflows themselves has been a longstanding mystery. What physical mechanism causes gas to reach such high speeds, and in some cases be expelled from the galaxy?
A new study provides the first direct evidence that these outflows are accelerated by energetic jets produced by the supermassive black hole.(...)
Read the rest of Supermassive Black Hole Blasting Molecular Hydrogen Solves Outstanding Mystery (332 words)
---
© Shannon Hall for Universe Today, 2014. | Permalink | No comment |
Post tags: Black Hole Jets, quasars, supermassive black holes

Feed enhanced by Better Feed from Ozh